So in the time while I waited for GoDaddy to update my wordpress I've managed to get a pretty basic implementation of the visualizer in Unity 3.0.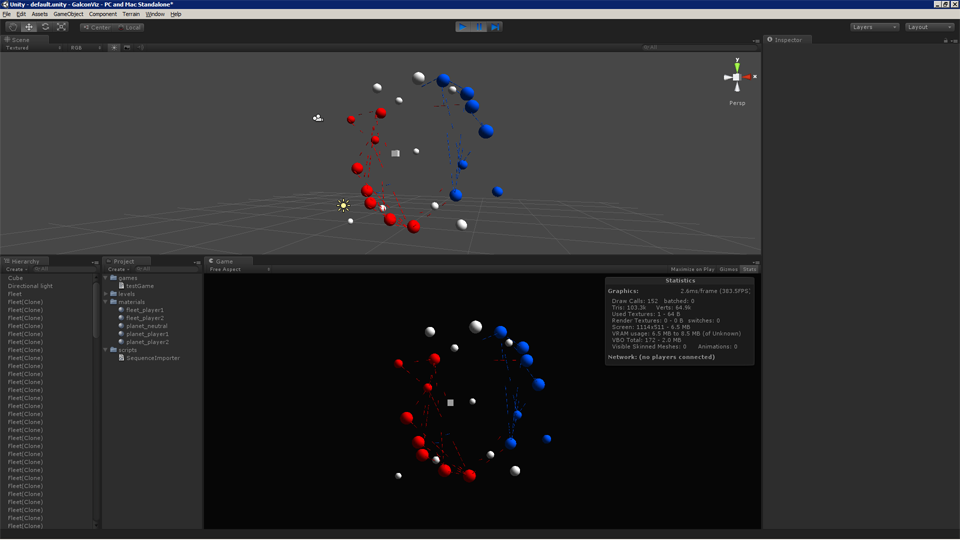 Right now it splits the game data string into rounds and creates a unique 'planet wars' object per round (List<PlanetWars>) – cloning the planets for each round and updating the owner and number of ships as well as creating the unique fleets for each round.
The 'CreateScene' function takes that array and creates a collection of GameObjects for the planets and fleets as needed.
It's creating and destroying the whole scene (planets, fleets etc) each round which isn't really a problem but pretty inefficient.
I need to add text rendering to show the numbers on the planets and fleets to show ship counts.
Unity 3.0 is pretty straight forward to get something like this up and running, however I am having a problem with Monodevelop on my PC. It doesn't seem to want to debug properly. I mean I can start the debug session and everything it's just if I modify any of the source code Unity looses all responsiveness and stops being able to progress. I think it has something to do with the recompile process because it only happens when I make a change to one of the scripts :'(.